COVID-19 Data, Data, Data!
Dear Friends of Nivi,
This week we wanted to share what's been our minds -- Data! Data! Data!

Our COVID-19 conversations have been live for almost a month and we've engaged 46,000+ users, collecting more than forty data points comparable across both India and Kenya.

Check out full blogs or scan the highlights below...

What are they thinking?: Insights into COVID-19 knowledge, risk perception, and compliance in Kenya & India
We compared how askNivi users in Kenya and India answer 4 questions as part of our educational interactive chats:
Do you know how the coronavirus spreads?

Do you think you are personally at risk of getting COVID-19?

Do you think people you know will stay home if they have symptoms?

Would you know who to call if you started experiencing symptoms?
Example: Nearly one-half of users failed to recognize three primary ways that the coronavirus spreads. Nivi's insight gives our subscription partners both a baseline on knowledge and underscored the importance of sustaining core COVID-19 messaging in digital and offline public health campaigns.

Read more here.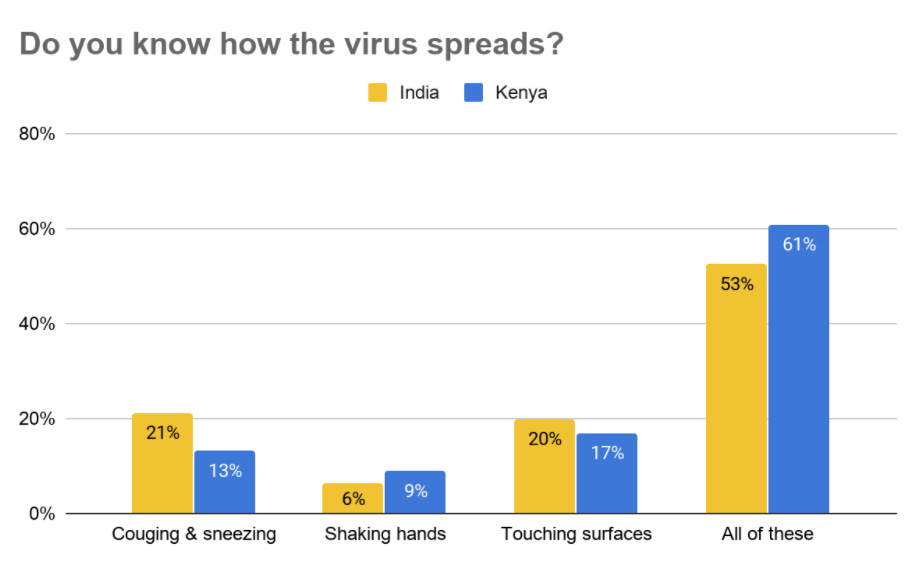 Does COVID-19 misinformation transcend borders?: Taking the temperature on common myths

This post explores 5 myths from the World Health Organization's "Myth Busting" webpage and measures the unadjusted prevalence among Nivi users in Kenya and India. Over the next few months, we will explore COVID-19 myths in more depth, tracking changes to misinformation over time. If you have myths you'd like to measure and respond to in your target audience, let us know here or email Ben@nivi.io.

Example: In both countries, the majority of Nivi users thought that a vaccine would be ready this year. We're digging deeper into the data to see if there are correlations between this belief and some of our knowledge, attitude, and behavioral questions (i.e. perception of personal risk, belief people will stay home with symptoms) to see if or how dangerous this belief may be to public health, providing guidance on priorities for health campaign messaging across channels.

Read more here.

Up Next…

We are developing content that gauges barriers to accessing family planning and e-pharmacy alternatives during the COVID-19 pandemic. Want to know more? Do you have a need-to-know question to ask your target audience via Nivi? Contact us! We'd love to chat.

Sincerely,
Ben Bellows, Co-founder
Nivi in the News:
SHOPS PLUS Case Study, Social Enterprise Innovations in Family Planning
People Daily, SMS platform to boost reproductive health
Nivi Blog, What are they thinking?: Insights into COVID-19 knowledge, risk perception, and compliance
Nivi Blog, Does COVID-19 misinformation transcend borders?: Taking the temperature on common myths